---

---
---
MOUNT MEMORY PLAQUE REGISTER - MAY 2022
| WALL | NAME # | SUNSET CALL DATE | DETAIL / SHELLHOLE / PROVINCE |
| --- | --- | --- | --- |
| EWL1 | C.A. EVENDEN | 1 April 1961 | MOTH FOUNDER - MOTH 'O' |
| EWL10 | W.L. (MIKE) RALSTON | 19 November 1997 | LION |
| EWL100 | Remembrance Plaque | BOW BELLS | SHELLHOLE PLAQUE - BOW BELLS |
| EWL101 | S.J. POWELL | 2 February 1995 | SIEGETOWN |
| EWL102 | S.L. DISHY | 13 January 1995 | DESRT LILY |
| EWL103 | R.S. HUTCHINSON | 27 May 1965 | ANTI-TANK |
| EWL104 | L.B. BEDSER | 21 March 1986 | OLD COMRADES |
| EWL105 | W.H. WHITE | 29 December 1994 | CAPRARA |
| EWL106 | W. SMITH | 1940-1942 | Past Transvaal Provincial O.B |
| EWL107 | Remembrance Plaque | DAN PIENAAR | SHELLHOLE PLAQUE -DAN PIENAAR |
| EWL108 | H. BILL REINDERS | 30 June 1988 | MOUNT MEMORY |
| EWL109 | J. FISHER | 18 February 1989 | BOW BELLS |
| EWL11 | A.D. EVANS | 11 November 1973 | SHERWOOD |
| EWL110 | W. STEPHEN | 4 July 1995 | GEN. vd SPUY |
| EWL111 | R.H. WEARE | 6 August 1995 | LORD ALLENBY |
| EWL112 | H. ORKEN | SUNSET CALL | DESERT LILY |
| EWL113 | J.C McISAAC | 21 July 1988 | ANTI-TANK |
| EWL114 | G.G. STEWART | 23 November 1995 | NURSE CAVELL |
| EWL115 | J.J. ALLISON - BROOMHEAD | 18 November 1992 | LORD ALLENBY |
| EWL116 | R.A. GLENDAY | 1942-1946 | Past Transvaal Provincial O.B |
| EWL117 | J. WALKER-ROUTE | 26 January 1995 | SIEGETOWN |
| EWL118 | C.Y ARDE | 7 November 1996 | MUKUMBURA |
| EWL119 | E.W. CATLETT | 11 June 1995 | BOW BELLS |
| EWL12 | L.W. MORGAN | 2 February 1990 | CANDLELIGHT/OLD BONES |
| EWL120 | W.G. PITCHER | 7 April 1960 | JIMMY |
| EWL121 | O de T LOVETT | 17 October 1982 | SHUFTI |
| EWL122 | J.L. JOHNSTONE | 01 June 1981 | LONG DISTANCE SNIPERS |
| EWL123 | G.S. MOORE | 19 August 1975 | ANTI-TANK |
| EWL124 | R.O. STEWART | 05 July 1998 | NURSE CAVELL |
| EWL125 | N. ANDREWS | 17 September 1988 | LORD ALLENBY |
| EWL126 | W. McRAW | 1946-1961 | Past Transvaal Provincial O.B |
| EWL127 | Remembrance Plaque | BEACH HEAD | SHELLHOLE PLAQUE -BEACH HEAD |
| EWL128 | J.M. WICKENS | 21 June 1997 | MUKUMBURA |
| EWL129 | K.E. NYSTROM | 28 March 1990 | MIDDELANSE |
| EWL13 | S.H. BECKERLING | 4 November 1985 | ANTI-TANK |
| EWL130 | L.S. TAITZ | 04 June 1998 | DESERT LILY |
| EWL131 | J.N. COETSER | 11 December 1990 | SHUFTI |
| EWL132 | S. DE BERNIER | 2 July 1996 | LORD ALLENBY |
| EWL133 | J.B. ROBERTSON | 2 October 1987 | ANTI-TANK |
| EWL134 | J.R. GUGGISBERG | 27 April 1996 | RHUMBELOW |
| EWL135 | B.M. SADLER | 17 September 1987 | COSY CORNER |
| EWL136 | F.W. CHEEK | 1961-1964 | Past Transvaal Provincial O.B |
| EWL137 | W.F. DE KOK | 13 May 1991 | MUKUMBURA |
| EWL138 | F. TRIVETT | 11 August 1997 | MUKUMBURA |
| EWL139 | W.A. SPEIRS | 6 February 1985 | XUMENI |
| EWL14 | P.J. EMMERSON | 31 May 1991 | BUTTERWORTH |
| EWL140 | JACK EVANS | 9 May 1998 | CANDLELIGHT/OLD BONES |
| EWL141 | J.J JOCK JENKINS | 25 April 1990 | PROTEA |
| EWL142 | J.D. TANNOUS | 25 June 1996 | CANDLELIGHT/OLD BONES |
| EWL143 | I.S. SCOTT BARNES | 12 January 1986 | ANTI-TANK |
| EWL144 | F.J.H. PETZER | 16 March 1984 | LORD ALLENBY |
| EWL145 | R.H. MAYNARD | 01 September 1988 | SHUFTI |
| EWL146 | J.W. STADLER | 1964 - 1970 | Past Transvaal Provincial O.B |
| EWL147 | REG ROBINSON | 22 July 1989 | MOUNT MEMORY |
| EWL148 | KEITH HEDLEY | 29 July 1997 | ANTI-TANK |
| EWL149 | Remembrance Plaque | BATTLE-AXE | SHELLHOLE PLAQUE - BATTLE-AXE |
| EWL15 | B. ROBERTSON | 12 December 1996 | FLAME LILY |
| EWL150 | R.S.J. BURNIE | 11 March 1998 | CANDLELIGHT/OLD BONES |
| EWL16 | Remembrance Plaque | K.B.B. | SHELLHOLE PLAQUE - K.B.B. |
| EWL17 | D.L. REEVES | 1975-1977 | Past Transvaal Provincial O.B |
| EWL18 | Remembrance Plaque | JIMMY | SHELLHOLE PLAQUE -JIMMY |
| EWL19 | A.P. MELPASS | 6 June 1983 | SENTINEL |
| EWL2 | H. GEYER | 1 April 1995 | CANDLELIGHT/ OLD BONES |
| EWL20 | LESS SHAW | 6 May 1998 | LORD ALLENBY |
| EWL21 | J.F.J MACQUET | 31 October 1992 | EL ALAMEIN |
| EWL22 | C.H. BURDETT | 7 May 1992 | FRANCIS DRAKE |
| EWL23 | BARRY BOOTH | 5 January 1993 | ANTI-TANK |
| EWL24 | P.D. WIDDICOMBE | 17 August 1991 | MOUNT MEMORY |
| EWL25 | J.P. EASSON | 11 January 1997 | LORD ALLENBY |
| EWL26 | H.H. DICKS | 17 May 1996 | JOURNEY'S END |
| EWL27 | J.E. VOLSCHENK | 1977- 1980 | Past Transvaal Provincial O.B |
| EWL28 | G.G. ATKINSON | 16 February 1991 | SENTINEL |
| EWL29 | A.L. CROSS | 27 March 1986 | SENTINEL |
| EWL3 | G.C. ROBINSON | 21 July 1996 | LORD ALLENBY |
| EWL30 | T. McMORRAN | 20 August 1994 | CONTEMPTIBLES |
| EWL31 | W. (BILL) CECH | 31 August 1995 | FLAME LILY |
| EWL32 | JOHN GAY | 2 February 1996 | BARRAGE |
| EWL33 | W.E. COLLETT | 6 May 1995 | BARRAGE |
| EWL34 | S.J. BAKER | 8 November 1993 | LORD ALLENBY |
| EWL35 | L.C. BELL | 1930-1932 | Past Transvaal Provincial O.B |
| EWL36 | T.M.B. WARREN | 12 July 1995 | SIEGE |
| EWL37 | C.D. BURMAN | 1987-1988 | Past Transvaal Provincial O.B |
| EWL38 | H.W. BRAITHWAITE | 1 April 1990 | MOUNT MEMORY |
| EWL39 | D. STRACHAN | 2 March 1984 | TWINKLE |
| EWL4 | E. HEPPLESTON | 11 May 1993 | SENTINEL |
| EWL40 | N. GOLDIN | 25 March 1998 | DESERT LILY |
| EWL41 | GEORGE S. COOMBS | 5 June 1995 | S.S. NOVA SCOTIA |
| EWL42 | D.T. WHELAN | 12 April 1996 | ATOMIC |
| EWL43 | G.G. COCHRANE | 19 November 1984 | DIDLEY-EYE |
| EWL44 | A.H. GOODEN | 4 November 1983 | JOURNEY'S END |
| EWL45 | H.V. KLETTE | 7 June 1996 | LORD ALLENBY |
| EWL46 | HU.M. URQUHART | 1927-1928 | Past Transvaal Provincial O.B |
| EWL47 | Remembrance Plaque | LION | SHELLHOLE PLAQUE - LION |
| EWL48 | S.B.J. COETSER | 4 September 1996 | SENTINEL |
| EWL49 | C.C. MACNAB | 27 July 1995 | WINDY CORNER |
| EWL5 | A.J.W. CHAMBER | 7 March 1994 | KUMBUKA |
| EWL50 | R.G. BOARDMAN | 14 August 1997 | SIEGE |
| EWL51 | E. (MANIE) ELOFF | 31 October 1995 | S.S NOVA SCOTIA |
| EWL52 | M.K. ASHINGTON | 15 July 1994 | IDUTYWA |
| EWL53 | W.J COCHRANE | 23 March 1992 | ANTI-TANK |
| EWL54 | N.G. HARRIS | 27 February 1993 | JOURNEY'S END |
| EWL55 | W.St. G OXDEN-WILLOWS | 16 February 1993 | LORD ALLENBY |
| EWL56 | D. McLEOD | 1928-1930 | Past Transvaal Provincial O.B |
| EWL57 | H.E. PORTER | 1996 | FLAME LILY |
| EWL58 | F.W. HAMMERSLEY | 2 April 1992 | MOUNT MEMORY |
| EWL59 | D.S. SIMSON | 24 September 1984 | MOUNT MEMORY |
| EWL6 | Remembrance Plaque | ROYAL SALUTE | SHELLHOLE PLAQUE - ROYAL SALUTE |
| EWL60 | Remembrance Plaque | OLD RIFLE RANGE | SHELLHOLE PLAQUE - OLD RIFLE RANGE |
| EWL61 | A. ZAMEK | 27 October 1974 | COMMANDO |
| EWL62 | G. PRIDGEON | 8 June 1969 | LORD ALLENBY |
| EWL63 | S.G. CRADDOCK | 11 November 1980 | ANTI-TANL |
| EWL64 | W.A. STAPLETON | 7 August 1996 | LION |
| EWL65 | Remembrance Plaque | BOKSBURG GAP | SHELLHOLE PLAQUE - BOKSBURG GAP |
| EWL66 | A.A. BELL | 30 March 1996 | LION |
| EWL67 | G.P. SWATTON | 6 February 1979 | LORD ALLENBY |
| EWL68 | N.M. ROBERTSON | 1 May 1983 | OLD COMERADES |
| EWL69 | G.R. SCLANDERS | 3 August 1985 | SENTINEL |
| EWL7 | E.F. SIMPSON | 1970-1975 | Past Transvaal Provincial O.B |
| EWL70 | Remembrance Plaque | FIELD MARSHAL | SHELLHOLE PLAQUE - FIELD MARSHAL |
| EWL71 | O.A. HARMAN | 14 September 1989 | ASSAGAI |
| EWL72 | W.L. RIDL | 23 June 1994 | EDWIN SWALES |
| EWL73 | EDDIE WOODS | 21 February 1997 | LORD ALLENBY |
| EWL74 | J.A. MEIRING | 25 April 1994 | LORD ALLENBY |
| EWL75 | Remembrance Plaque | BOMB ALLEY | SHELLHOLE PLAQUE |
| EWL76 | C.J.C CROTHALL | 1934-1938 | Past Transvaal Provincial O.B |
| EWL77 | F.A. WAY | 27 February 1997 | LORD ALLENBY |
| EWL78 | H.A. HOYER | 3 May 1964 | TWINKLE |
| EWL79 | P. NUYTEN | 12 August 1987 | EDWIN SWALES |
| EWL8 | R.P.R. WRIGHT | 9 May 1988 | ANTI-TANK |
| EWL80 | R. (BOB) SMITH | 1 April 1982 | CONTEMPTIBLES |
| EWL81 | AKBERT E. CAWTHORNE | 19 October 1991 | FLAME LILY |
| EWL82 | G.C. MARSHALL | 6 May 1996 | CANDLELIGHT/OLD BONES |
| EWL83 | M.G. GEYVE | 19 May 1998 | ANTI-TANK |
| EWL84 | D.A. LIEBENBERG | 23 July 1994 | SHRAPNEL |
| EWL85 | H. WATSON | 27 February 1995 | JACKY FISHER |
| EWL86 | E.D. WACKRILL | 1938-1939 | Past Transvaal Provincial O.B |
| EWL87 | J.F. HUMMERSTON | 30 April 1997 | THIRD BRIGADE |
| EWL88 | R. BURDEN | 22 April 1987 | MUKUMBURA |
| EWL89 | Remembrance Plaque | ATOMIC | SHELLHOLE PLAQUE - ATOMIC |
| EWL9 | A.J. WILLARD | 1 September 1966 | IDUTYWA |
| EWL90 | R.S. (KIM) ROSE | 23 November 1988 | LE MANS |
| EWL91 | C.H. HARDMAN | 18 September 1993 | LORD ALLENBY |
| EWL92 | H. LINDEMANN | 4 February 1994 | DESERT LILY |
| EWL93 | J.W. GRAY | 27 July 1971 | ANTI-TANK |
| EWL94 | L.K. MANN | 13 September 1983 | MOUNT MEMORY |
| EWL95 | W.E.H. VINCENT | 07 May 1981 | HELLFIRE CORNER |
| EWL96 | H. AUSTEN | 1938-1940 | Past Transvaal Provincial O.B |
| EWL97 | M. ITZIGSOHN | 21 September 1996 | VEREENIGING |
| EWL98 | C.M. KLOPPER | 07 September 1988 | MUKUMBURA |
| EWL99 | P. v Z. HAUPT | 13 February 1975 | PLUM & APPLE |
| EWR1 | E.M. WEBBER | 31 May 1994 | PILLBOX |
| EWR10 | D.H. NELSON-BERG | 2 May 1995 | HIGHWAY |
| EWR100 | A.C. KORB | 6 September 2004 | CANDLELIGHT / OLD BONES |
| EWR101 | J.M. DUNBAR | 8 September 1984 | SENTINEL |
| EWR102 | Remembrance Plaque | BETTER 'OLE | SHELLHOLE PLAQUE - BETTER 'OLE |
| EWR103 | C.F.L. DAVIES | 18 May 1999 | SHUFTI |
| EWR104 | CAROL M. HERBST | 17 January 2000 | MAFEESH |
| EWR105 | J.L. DENHOLM | 20 May 2001 | GEN. vd SPUY |
| EWR106 | I. HARROWER | 9 July 2000 | HIGHWAY |
| EWR107 | P.R. HORNER | 12 June 1981 | MOUNT MEMORY |
| EWR108 | C.H. ODENDAAL | 18 September 2002 | SHUFTI |
| EWR109 | N.R. BARETT | 26 May 2003 | ALAN WILSON |
| EWR11 | L.J.M.J. MACQUET | 20 November 1984 | EL ALAMEIN |
| EWR110 | W.M. SNYMAN | 4 February 2004 | CANDLELIGHT / OLD BONES |
| EWR111 | Remembrance Plaque | QUEEN MARY | SHELLHOLE PLAQUE - QUEEN MARY |
| EWR112 | O.C. OFTEBRO | 5 December 1965 | DESERT |
| EWR113 | R.F. HELE | 2 September 1999 | CANDLELIGHT / OLD BONES |
| EWR114 | R.T. McCALLUM | 23 October 1999 | CANDLELIGHT / OLD BONES |
| EWR115 | N.T. MILLER | 15 July 2000 | CROWN & ANCHOR |
| EWR116 | C.A. VICE | 17 June 2001 | CANDLELIGHT / OLD BONES |
| EWR117 | J. DELPORT | 28 September 2001 | CRATER |
| EWR118 | A.A McLAREN | 23 September 2002 | TOMMY RENDLE |
| EWR119 | J.H GENNIS | 26 June 2003 | SIEGETOWN |
| EWR12 | Remembrance Plaque | ALBATROSS | SHELLHOLE PLAQUE - ALBATROSS |
| EWR120 | B.L. SUTTIE | 30 March 2004 | CANDLELIGHT / OLD BONES |
| EWR121 | Remembrance Plaque | CROWN ANCHOR / DINKIE DI | SHELLHOLE PLAQUE - CROWN ANCHOR / DINKIE DI |
| EWR122 | N.B. ROE-SCOTT | 9 November 1986 | DESERT |
| EWR123 | N.A. DYER | 1 October 1999 | LORD ALLENBY |
| EWR124 | S.L. BARRY | 22 November 1999 | SHRAPNEL |
| EWR125 | W.M. CRONJE | 13 January 1999 | RED TAB |
| EWR126 | G. CAMERON | 21 June 2001 | CRATER |
| EWR127 | C.J. DE WET VENTER | 9 December 1983 | STOFFELSBULT |
| EWR128 | A.E. FIRMAN | 4 July 2002 | LORD ALLENBY |
| EWR129 | S.E. VERSTER | 7 December 2003 | GEN. vd SPUY |
| EWR13 | D. WRIGHT | 27 June 1997 | TWIGHLIGHT |
| EWR130 | BERTIE BROWN | 3 June 1995 | MOUNT MEMORY |
| EWR131 | D.E. MATHEWS | 1 July 1983 | FLAME LILY |
| EWR132 | Remembrance Plaque | VICTORY SHELLHOLE | PLAQUE - VICTORY SHELLHOLE |
| EWR133 | H. JOWETT | 3 August 1975 | JIMMY |
| EWR134 | Remembrance Plaque | ROUGH BUT READY (DBN) | JAMBO SANA PLAQUE - ROUGH BUT READY (DBN) |
| EWR135 | F.R. FOSTER | 24 January 2000 | ANTI-TANK |
| EWR136 | R.H. LEE | 17 March 1987 | SENTINEL |
| EWR137 | Remembrance Plaque | STOFFELSBULT | SHELLHOLE PLAQUE - STOFFELSBULT |
| EWR138 | A.W. WILLE | 4 May 2002 | LION |
| EWR139 | W.R. BRADLEY | 25 November 2002 | SEAGULL |
| EWR14 | L.V. HORTON | 29 October 1999 | HAND IN HAND |
| EWR140 | Remembrance Plaque | TRIPOLI SHELLHOLE | PLAQUE - TRIPOLI SHELLHOLE |
| EWR141 | JOHN DE KOCK | 3 April 1990 | MAREETSANE |
| EWR142 | R.W.B LUNN | 25-Apr-97 | VICTORY |
| EWR143 | L. JOWETT | 8 June 1980 | ROYAL SALUTE |
| EWR144 | C.P. JACOBS | 19 May 2000 | CANDLELIGHT / OLD BONES |
| EWR145 | A.T. WICKENS | 1 December 1999 | TWILIGHT |
| EWR146 | I. RALSTON | 26 November 2000 | LION |
| EWR147 | G.W. SNELLING | 14 August 2001 | OVERLORD |
| EWR148 | A.A PROVICH | 16 June 2001 | MUKUMBURA |
| EWR149 | R.L. CROSS | 12 October 2003 | SENTINEL |
| EWR15 | R.L. BRAITHWAITE | 1 February 2000 | SENTINEL |
| EWR150 | E.T. KINNING | 3 September 2004 | GUNPIT/THREE IDEALS |
| EWR16 | J.L. SIDEY | 29 October 1999 | COMBINED OPS |
| EWR17 | J.H. MULDER | 22 October 1988 | JACK GARTLY |
| EWR18 | H. MOOLMAN | 3 March 2000 | KUM-A-KYE |
| EWR19 | D.J. McMILLAN | 31 October 2000 | 1ST BRIGADE |
| EWR2 | K.A. PHIPPS | 16 June 1971 | SHUFTI |
| EWR20 | G.A.P SCLANDERS | 11 June 1957 | MOUNT MEMORY |
| EWR21 | R. ARMOUR | 14 September 1979 | EL ALAMEIN |
| EWR22 | HUGH KNOX | 13 February 1989 | ANTI-TANK |
| EWR23 | Remembrance Plaque | HIGHWAY | SHELLHOLE PLAQUE - HIGHWAY |
| EWR24 | I. McALL-PEAT | 25 July 1999 | SUNSET |
| EWR25 | J. WEIR | 13 June 2000 | CRATER |
| EWR26 | W.C. PALMER | 28 January 2001 | CANDLELIGHT / OLD BONES |
| EWR27 | E.L. CROCKETT | 20 June 2001 | DIDLEY EYE |
| EWR28 | E.S. MINGARD | 25 November 2001 | HIGHWAY |
| EWR29 | F.S.J. JACKSON | 7 February 2002 | LION |
| EWR3 | Remembrance Plaque | TWIGHLIGHT | SHELLHOLE PLAQUE - TWIGHLIGHT |
| EWR30 | E. MILFORD | 28 April 2003 | PMB & DIST. DUGOUT |
| EWR31 | H.S. COATES | 22 June 1984 | COLLONDALE |
| EWR32 | S. NEKRIDGE | 22 December 1997 | COMBINED OPS |
| EWR33 | A.R.C. TAYLOR | 14 November 1997 | HIGHWAY |
| EWR34 | J.C. YSSEL | 11 November 1999 | CANDLELIGHT / OLD BONES |
| EWR35 | LOUIE MAREE | 23 September 1998 | RATEL SHELLHOLE |
| EWR36 | J.J. JACKSON | 21 December 1996 | DAWN PATROL |
| EWR37 | W. REID | 13 May 2001 | SHRAPNEL |
| EWR38 | H.F.B DOLLEY | 27 September 2001 | GEN. vd SPUY |
| EWR39 | Remembrance Plaque | UP NORTH | SHELLHOLE PLAQUE - UP NORTH |
| EWR4 | C.J. ANDREWS | 24 October 1999 | CANDLELIGHT / OLD BONES |
| EWR40 | C.J.C. JOUBERT | 29 December 1994 | CASINO |
| EWR41 | DICK BALDOCK | 24 July 1998 | SHRAPNEL |
| EWR42 | F.J. EDMONDS | 3 January 1996 | PILLBOX (T) |
| EWR43 | M. STAFFARD | 27 December 1998 | HIGHWAY |
| EWR44 | G.H. BORTHWICK | 5 December 1984 | BETTER 'OLE |
| EWR45 | FLIPPIE KOTZE | 26 January 1998 | RATEL |
| EWR46 | H. WALDEN | 11 December 1986 | NURSE CAVELL |
| EWR47 | A.F.D HERBERT | 3 January 2001 | SHRAPNEL |
| EWR48 | Remembrance Plaque | VEREENIGING | SHELLHOLE PLAQUE - VEREENIGING |
| EWR49 | J.H. YOUNGLESON | 4 March 2003 | ANTI-TANK |
| EWR5 | C.A. SCLANDERS | 16 July 1976 | SENTINEL |
| EWR50 | BOB GRAY | 14 June 2004 | MOUNT MEMORY |
| EWR51 | RAY LEWIS | 21 May 1997 | SHRAPNEL |
| EWR52 | P.D. MARTIN | 15 January 1999 | LORD ALLENBY |
| EWR53 | M.L. FOXCROFT | 10 September 1978 | JAMBO SANA |
| EWR54 | G. MAITIN | 27 October 1997 | CRATER |
| EWR55 | STEFAN RABIE | 14 May 1995 | RATEL |
| EWR56 | W. WALDEN | 6 March 2001 | ALAN WILSON |
| EWR57 | D. SHEIL-SMALL | 9 May 2000 | SHRAPNEL |
| EWR58 | W.K. HEERES | 24 August 2000 | DELMEIN |
| EWR59 | LYDIA JOHNSTON | 28 April 2003 | NURSE CAVELL |
| EWR6 | M.H. JANSSEN | 18 August 1999 | JIGGERFLEA |
| EWR60 | PHYLISS J. WHITE | 8 August 2004 | NURSE CAVELL |
| EWR61 | G.H. SHERWOOD | 18 March 1998 | SHUFTI |
| EWR62 | Remembrance Plaque | EDWIN SWALES V.C | SHELLHOLE PLAQUE - EDWIN SWALES V.C |
| EWR63 | G.H. GEDDIE | 3 August 1989 | BULLDOZER |
| EWR64 | F. POUNDER | 15 September 1999 | CRATER |
| EWR65 | FRED JONSSON | 31 March 1993 | RATEL |
| EWR66 | A.H. TURNER | 16 February 2001 | GEN. MONTGOMERY |
| EWR67 | G.V.W. SHIPP | 2 March 1997 | THREE DICE |
| EWR68 | C.B. CLARK | 24 June 1990 | MOUNT MEMORY |
| EWR69 | B.H. ERLEBACH | 3 February 2003 | TWIGHLIGHT |
| EWR7 | S. SIGOURNAY | 2 January 1985 | MOUNT MEMORY |
| EWR70 | H.J.R. TURNER | 6 January 2004 | THE TANK TRAP |
| EWR71 | T.C. BAMFIELD DUGGAN | 19 May 1998 | SHUFTI |
| EWR72 | J.W. HOLMS | 9 May 1997 | STEEL HELMET |
| EWR73 | H. CORNICK | 25 August 1997 | CANDLELIGHT / OLD BONES |
| EWR74 | Remembrance Plaque | CRATER | SHELLHOLE PLAQUE - CRATER |
| EWR75 | BOSSIE BOSHOFF | 26 January 1993 | RATEL |
| EWR76 | B.C. MIRFIN | 15 September 2000 | FLAME LILY |
| EWR77 | Remembrance Plaque | OVERLORD | SHELLHOLE PLAQUE - OVERLORD |
| EWR78 | D. COUTTS-GARTLY | 20 April 1945 | KANDAHAR |
| EWR79 | D.A. SASS | 7 February 2003 | CONTEMTIBLES |
| EWR8 | D. CAMERON | 8 May 1995 | SHRAPNEL |
| EWR80 | F. MORROW | 17 July 2004 | SHRAPNEL KUM-A-KYE |
| EWR81 | N.G. WRIDGWAY | 24 March 1998 | SHUFTI |
| EWR82 | A.J. HALL | 28 January 1999 | SHRAPNEL |
| EWR83 | J.A.P. CORK | 20 December 1977 | UNION |
| EWR84 | Remembrance Plaque | PICARDY SHELLHOLE | PLAQUE - PICARDY SHELLHOLE |
| EWR85 | B.D. HARVEY | 25 July 2000 | NURSE CAVELL |
| EWR86 | Remembrance Plaque | PORT NATAL SHARPSHOOTERS | SHELLHOLE PLAQUE - PORT NATAL SHARPSHOOTERS |
| EWR87 | T.L.K. WEAVER | 15 December 1972 | LAST POST |
| EWR88 | C.R. RIDLEY | 13 October 1995 | BETTER 'OLE |
| EWR89 | G. GRAY | 12 July 2003 | CRATER |
| EWR9 | V.H. TREMEARNE | 12 October 1975 | 1ST BRIGADE |
| EWR90 | C. TOURELL | 22 January 2005 | SENTINEL |
| EWR91 | D.R. REYNOLDS | 30 October 1997 | BORDER |
| EWR92 | A.H. GODDARD | 3 September 1995 | EDWIN SWALES V.C |
| EWR93 | Q.G.M SMYTHE | 22 October 1998 | PICARDY BAZOOKA |
| EWR94 | Remembrance Plaque | PICARDY BAZOOKA | SHELLHOLE PLAQUE - PICARDY BAZOOKA |
| EWR95 | J.A. CHICK | 19 May 1999 | ANTI-TANK |
| EWR96 | E.J. HILLS | 19 April 2001 | EDWIN SWALES V.C |
| EWR97 | J.J. CAMPBELL | 7 September 2001 | THREE ONES |
| EWR98 | H.G. RITTER | 15 August 2002 | SENTINEL |
| EWR99 | H.G. VERCOE | 16 February 2003 | EDWIN SWALES V.C |
| WWL1 | H.L. PORTER | 10 August 2002 | CANDLELIGHT / OLD BONES |
| WWL10 | RICHARD CLUCAS | 14 May 2018 | CANDLELIGHT / OLD BONES |
| WWL100 | MICHAEL JOHN ADRAIN | 13 February 2018 | WINSTON CHURCHILL |
| WWL101 | R.L. LIDDLE | 3 January 2003 | TWIGHLIGHT |
| WWL102 | ERIC GOMERSALL | 19 June 1982 | JOURNEY'S END |
| WWL103 | CASPER BADENHORST | 6 September 2006 | SANDY |
| WWL104 | PHILIP B. THORNHILL | 16 March 1973 | MOUNT ALICE |
| WWL105 | DAVID McMILLAN | 7 March 2005 | VETERANS |
| WWL106 | HENRY H (DUX) GERATY | 1 May 1966 | CLAREDON |
| WWL107 | D.R. FELL | 22 January 1992 | ANTI-TANK |
| WWL108 | ROLAMD M. SANDISON | 10 October 2009 | ANTI-TANK |
| WWL109 | PHILIPPE CASTLE | 3 February 2018 | TWILIGHT RED TAB |
| WWL11 | J. MORTLOCK | 13 February 2003 | CANDLELIGHT/ OLD BONES |
| WWL110 | KENNETH GRAHAM GILLINGS | 9 December 2016 | WINSTON CHURCHILL |
| WWL111 | W. MEAKIN | 11 November 2004 | GEN vd SPUY |
| WWL112 | ANDRIES H. VAN HEERDEN | 5 March 2006 | PASSCHENDAELE/SOMME |
| WWL113 | DWAIN P.G. TAYLOR | 21 August 1986 | OVERLORD |
| WWL114 | CHARLES W. STUBBS | 21 October 1978 | MTAMBU |
| WWL115 | Remembrance Plaque | HARD TACK | SHELLHOLE PLAQUE - HARD TACK |
| WWL116 | ALEX DINGLEY | 16 May 2006 | THREE ONES |
| WWL117 | RAYMOND W. FURNISS | 11 September 2012 | UMSINDENE / SEA HORSE |
| WWL118 | WILLIAM RANKIN | 16 June 1983 | SENTINEL |
| WWL119 | JOHANNES M. DE BEER | 13 January 2018 | CANDLELIGHT / OLD BONES |
| WWL12 | A.W.J. STRUDWICK | 22 November 2004 | SHUFTI |
| WWL120 | JAMES WYNAND LOUW | 25 December 2007 | BLACK SHEEP |
| WWL121 | R.V. Mc CALLUM | 18 October 2004 | GEN. vd SPUY |
| WWL122 | E.W. (TED) TOMS | 07 February 2006 | O'PIP |
| WWL123 | LESLIE T.N. MAILE | 12 December 1999 | OVERLORD |
| WWL124 | WILLIAM C. DAWBER | 01 May 2008 | EDWIN SWALES V.C. |
| WWL125 | GEORGE W. KIRBY | 22 November 2005 | EDWIN SWALES V.C. |
| WWL126 | KEVIN MARALLICH | 29 August 2010 | NONGQAYI |
| WWL127 | A.C. KLOPPER | 07 May 2012 | MUKUMBURA |
| WWL128 | BRIAN LOFTY CAWTHORNE | 27 May 2020 | FLAME LILY |
| WWL129 | ANTHONY D. CLIDARAS | 10 October 2017 | CANDLELIGHT / OLD BONES |
| WWL13 | RON MACGREGOR | 29 April 2006 | WARRIORS GATE |
| WWL130 | JOHN J. CONLETH BERRY | 29 April 2017 | SHRAPNEL KUM-A-KYE |
| WWL131 | G.H. SEACH | 16 December 2004 | GEN. vd. SPUY |
| WWL132 | LIONEL ROTHART | 16 July 2002 | O'PIP |
| WWL133 | DOUGLAS SHUTTLEWORTH | 14 June 2002 | OVERLORD |
| WWL134 | Remembrance Plaque | ADMIRAL HALIFAX | SHELLHOLE PLAQUE - ADMIRAL HALIFAX |
| WWL135 | TERENCE MICHAEL BORLAND | 25 April 2009 | LORD ALLENBY |
| WWL136 | WILHELM NEIZEL | 28 March 1986 | LORD ALLENBY |
| WWL137 | MICHIEL J. JACOBUS | 29 November 2010 | CANDLLIGHT / OLD BONES |
| WWL138 | JAMES A. SCLANDERS | 19 July 2010 | SENTINEL |
| WWL139 | LEN HALLETT | 19 June 2012 | VICTORY |
| WWL14 | PATRICK Mc KENNA | 18 December 2004 | OVERLORD |
| WWL140 | GRAHAM A.W. LEE | 24 July 2019 | BETTER 'OLE |
| WWL141 | N.R. WHITTAKER | 11 January 2005 | SIEGTOWN |
| WWL142 | ALLAN TORR | 08 July 2005 | SHUFTI |
| WWL143 | RALPH DE LA BROYERE | 17 December 2003 | OVERLORD |
| WWL144 | Remembrance Plaque | EDWIN SWALES V.C | SHELLHOLE PLAQUE - EDWIN SWALES V.C |
| WWL145 | M.V. 'MERRY' DICKS | 18 March 1992 | LION / ALAN WILSON |
| WWL146 | LEWIS PLAYERS | 03 October 1954 | FREEDOM |
| WWL147 | Remembrance Plaque | WINSTON CHURCHILL | SHELLHOLE PLAQUE - WINSTON CHURCHILL |
| WWL148 | Remembrance Plaque | JOURNEY'S END | SHELLHOLE PLAQUE - JOURNEY'S END |
| WWL149 | JAMES CLIDARAS | 29 November 2010 | CANDLELIGHT / OLD BONES |
| WWL15 | OSWALD (OSIE) DAWSON | 22 December 2008 | EDWIN SWALES V.C. |
| WWL150 | CECIL JOHN RITSON | 06 December 2019 | TWIGHLIGHT / RED TAB |
| WWL16 | JAMES ROWLANDS | 25 July 1999 | MONTE SANCO |
| WWL17 | ROBERT ORMONDE JONES | 5 December 2006 | RED DUSTER |
| WWL18 | Remembrance Plaque | BOOT AND SADDLE | SHELLHOLE PLAQUE - BOOT AND SADDLE |
| WWL19 | J.J. JACOBS | 25 September 2013 | CANDLELIGHT |
| WWL2 | D.H. PATERSON | 16 February 2005 | SHUFTI |
| WWL20 | DENIS BERNARD CHASE | 2 July 2018 | VICTORY |
| WWL21 | L.R. PAYNE | 10 August 1994 | ALLAN WILSON |
| WWL22 | G.H.W. BATEMAN | 18 July 2005 | NURSE CAVELL |
| WWL23 | OWEN NEVILLE WILSON | 26 January 2004 | PORT NATAL SHARPSHOOTERS |
| WWL24 | CHRISTIAAN FERREIRA | 12 November 2014 | MUKUMBURA |
| WWL25 | GEORGE KIRBY | 22 November 2005 | EDWIN SWALES |
| WWL26 | BAREND J. ENGELBRECHT | 1 October 2009 | NATIONAL EXECUTIVE |
| WWL27 | DAVID DOLD PIKIE | 12 August 2010 | UP NORTH |
| WWL28 | MAURICE ISSY SHORE | 1 December 2010 | STELL HELMET |
| WWL29 | F.W. KNIGHTS | 23 December 2014 | ROUGH BUT READY |
| WWL3 | DEREK HUDSON-REED | 22 July 2003 | SHUFTI |
| WWL30 | GERALD WELSTEAD MORGAN | 23 December 2018 | CANDLELIGHT / OLD BONES |
| WWL31 | W.A. GURR | 7 December 2003 | SHUFTI |
| WWL32 | ARTHUR WRAY | 12 August 2005 | PMB & DISTRICT |
| WWL33 | EDNA MARY JOHNSON | 6 February 2006 | NURSE CAVELL |
| WWL34 | MICHAEL de BROMHEAD | 7 November 2006 | SHUFTI |
| WWL35 | BILL GLEN | Jul-06 | GEN vd. SPUY |
| WWL36 | ALLISON D. TRAYNOR | 10 June 2008 | RED TAB |
| WWL37 | THEODORE R. GOODEN | 29 January 2011 | RED TAB |
| WWL38 | HORACE O. ELBOURNE | 16 March 1980 | MUDHOOK |
| WWL39 | C. FERREIRA | 12 November 2014 | MUKUMBURA |
| WWL4 | JAMES McALLISTER | 10 July 2004 | OVERLORD |
| WWL40 | ERIC MORGAN | 13 April 2018 | CANDLELIGHT / OLD BONES |
| WWL41 | G.J. EDDS | 18 August 1977 | BUNDU |
| WWL42 | CECIL BRADLEY MILLER | 22 March 2005 | VICTORY |
| WWL43 | R.W. STUART | 20 November 2005 | OVERLORD & STEEL HELMET |
| WWL44 | G.M. (RITA) BURDETT | 11 February 2007 | SHUFTI |
| WWL45 | Remembrance Plaque | INCHANGA / QUEENS OWN | SHELLHOLE PLAQUE - INCHANGA / QUEENS OWN |
| WWL46 | DOUGLAS H. CHARLES | 30 April 2010 | PAST BILL OF THE ORDER |
| WWL47 | REG SWEET | 11 June 2011 | EDITOR - HOME FRONT |
| WWL48 | S. NICOLSON | 3 November 1993 | "D" DAY |
| WWL49 | P.G. GIBSON | 24 April 2016 | MUKUMBURA |
| WWL5 | Remembrance Plaque | SAM & MOIRA TARR | LORD ALLENBY PLAQUE - SAM & MOIRA TARR |
| WWL50 | LESLIE MELVILLE HUNT | 23 January 2016 | MAFEESH / LORD ALLENBY |
| WWL51 | C.G. EDDS | 27 March 1987 | BRIGHTON BREEZY |
| WWL52 | GEORGE WILLIAMSON | 25 January 2005 | JACKY FISHER |
| WWL53 | G. DICKS | 22 January 2001 | SENTINEL |
| WWL54 | CLIVE B. RAMSAY | 14 April 2007 | SHUFTI |
| WWL55 | FRANS L. JOUBERT | 9 March 2006 | S.S. NOVA SCOTIA |
| WWL56 | JOHN R. HANKINSON | 13 February 2009 | ANTI-TANK |
| WWL57 | Remembrance Plaque | M'DUMBI | SHELLHOLE PLAQUE - M'DUMBI |
| WWL58 | NORMAN J. STUCK | 7 August 2012 | DAWN PATROL |
| WWL59 | H. (BILL) H. VAN NIEKERK | 19 January 2016 | SEAGULL |
| WWL6 | DEREK SUMMERS | 1 October 2009 | PORT PEARSON |
| WWL60 | DEREK R. R. BARRETTE | 5 July 2017 | SENTINEL |
| WWL61 | A. BRADFORD | 1 August 2004 | LORD ALLENBY |
| WWL62 | ROWAN I.M. DARKES | 13 November 1998 | KUM-A-KYE |
| WWL63 | THEODORE G. WOODS | 16 February 2005 | ALLAN WILSON |
| WWL64 | ALAN CHRISTIAN ODENDAAL | 2 July 2020 | LONG TOM |
| WWL65 | KENNETH J. WILSON | 12 November 2007 | CANDLELIGHT / OLD BONES |
| WWL66 | GRAHAM B. HARVEY | 22 May 2010 | TSHAKA |
| WWL67 | Remembrance Plaque | MARSHAL SMUTS | SHELLHOLE PLAQUE - MARSHAL SMUTS |
| WWL68 | RICHARD G. CLARKE | 13 February 2013 | NATIONAL EXECUTIVE |
| WWL69 | DAVID B. HUDSON GRANT | 11 March 2015 | SENTINEL |
| WWL7 | HERBY BAUER | 12 September 1982 | LORD ALLENBY PLAQUE |
| WWL70 | PETER COATES | 7 November 2018 | UP NORTH |
| WWL71 | J. BARNETT | 16 December 1994 | RHODESIAN LION |
| WWL72 | PAT WHELAN | 17 September 1968 | MOUNT MEMORY |
| WWL73 | CRISTIAAN AMDRE HUGO | 4 August 2008 | LORD ALLENBY |
| WWL74 | Remembrance Plaque | DARDANELLES | SHELLHOLE PLAQUE - DARDANELLES |
| WWL75 | BILL WOOD | 8 August 2009 | SANDY |
| WWL76 | PETER COCHRANE | 15 November 2009 | SANDY |
| WWL77 | JIMMY ROCHE | 17 May 1983 | ANTI-TANK |
| WWL78 | GEOFF F.H. MIDDLETON | 28 April 2000 | BOW BELLS / RED DUSTER |
| WWL79 | C.H.G.ODENDAAL | 18 September 2002 | SHUFTI |
| WWL8 | ALLAN R. BURNETT | 17 April 2007 | FISH HOEK |
| WWL80 | PETER WOODHOUSE | 12 June 2018 | VICTORY |
| WWL81 | C. METCALFE | 21 February 2004 | OVERLORD |
| WWL82 | VERNON HODGSON | 28 May 1993 | SENTINEL |
| WWL83 | Remembrance Plaque | SOUTHERN KZN PROVINCIAL | DUGOUT PLAQUE - SOUTHERN KZN PROVINCIAL |
| WWL84 | GLORIA SMITH | 9 July 2007 | NURSE CAVELL |
| WWL85 | ROBERT H. PARMENTER (MM) | 16 March 2003 | UP NORTH |
| WWL86 | BRYCE ROXBURGH | 30 August 2010 | CASSINO |
| WWL87 | NEVILLE S. JOHNSON | 6 April 2011 | OASIS |
| WWL88 | KEVIN MARTIN | 24 January 2020 | FLAME LILLY |
| WWL89 | GEOFFREY BYROM | 29 September 2008 | ATOMIC |
| WWL9 | KOLMAN BRUSSER | 28 February 2017 | TWIGHLIGHT RED TAB |
| WWL90 | STUART GRANDIN | 15 April 2017 | VICTORY |
| WWL91 | J.F. GOURLAY | 6 January 1948 | DURBAN & DISTRICT DUGOUT |
| WWL92 | JACOBUS P. OLIEMANS | 29 November 2010 | CANDELLIGHT / OLD BONES |
| WWL93 | GORDON WATT-PRINGLE | 3 August 1985 | TIPPERARY |
| WWL94 | BAILIE GRIFFIN | 22 May 2007 | SHUFT LORD ALLENBY |
| WWL95 | E & L WHITCHER | 24 November 2007 | COMBINED OPS |
| WWL96 | O.B. BILL ARTHUR N. STOCKIL | 31 August 2010 | MOUNT MEMORY |
| WWL97 | VERNON CORBISHLEY | 26 May 2011 | PAST NATIONAL CHAIRMAN |
| WWL98 | NORMAN ERIC APPLEBY | 04 November 1994 | RHUMBELOW |
| WWL99 | JACOBUS LODEWICUS BOTHA | 21 April 2005 | VICTORY |
| WWR1 | VERA MARGARET LYNN | 18 June 2020 | M.O.T.H. GHQ |
| WWR10 | JAMES (JIM) WARE | 15 October 2020 | BETTER 'OLE |
| WWR11 | TERENCE REARDON | 24 December 1992 | MAREETSANE |
| WWR12 | RICHARD HENRY INGGS | 25 December 2012 | WINDY CORNER |
| WWR13 | LESLIE ERIC ELBOURNE | 11 January 2018 | WINDY CORNER |
| WWR16 | KENNETH JOHN RODGERS | 16 April 1989 | BLACK CAT |
| WWR17 | PATRICIA ANN WOOD | 13 August 2021 | WINSTON CHURCHILL |
| WWR18 | YVONNE BURNARD | 12 August 2011 | UP NORTH |
| WWR19 | BRIAN JOHN GAINS PRETORIUS | 28 May 2021 | VICTORY |
| WWR2 | DAVID MICHAEL REVELL | 2 August 2020 | RED BARN / T.O.T.S |
| WWR20 | HERMAN C. VAN BRAKEL | 18 June 2021 | VICTORY |
| WWR21 | EDWARD GEORGE LUSIGNEA | 2 January 2021 | VICTORY |
| WWR22 | GEORGE SIDNEY JONNES | 14 July 2010 | ANTI-TANK |
| WWR23 | GEORGE HENRY BRYON | 5 October 1976 | QUEEN MARY SHELLHOLE |
| WWR24 | FREDRICK JEFFERSON BRYON | 30 December 1988 | QUEEN MARY SHELLHOLE |
| WWR25 | JOSEF JOHANNES PRETORIUS | 16 December 2021 | VICTORY |
| WWR26 | ROY HENRY STEFFEN | 18 August 2021 | TWIGHLIGHT / RED TAB |
| WWR27 | ALLISON D. TRAYYNOR | 10 June 2008 | RED TAB |
| WWR3 | JESSE SKINGLE | 18 March 1974 | MOSQUITO |
| WWR3 | REGINALD LEPART | 15 April 1981 | MOSQUITO |
| WWR4 | JACK DAWSON BAILEY | 03 January 1998 | COSEY CORNER |
| WWR4 | THOMAS SKINGLE | 10 November 2011 | ALLAN WILSON |
| WWR5 | COLIN IAN MᶜCANN | 20 September 2018 | WINDY CORNER |
| WWR6 | WALTER HOLLINGWORTH | 12 January 1983 | ARIEL |
| WWR7 | CRAIG ALAN ELBOURNE | 22 October 1999 | WINDY CORNER |
| WWR8 | G.B ALAN HITCHCOCK | 7 February 2019 | JACKY FISHER |
| WWR9 | Remembrance Plaque | OASIS SHELLHOLE | SHELLHOLE PLAQUE - OASIS SHELLHOLE |
The Mount Memory Plaque Register is a list of all plaques displayed on the Mount Memory Wall Of Remembrance, showing the wall and position of each plaque

EWL = East Wall Left
EWR = East Wall Right
WWL = West Wall Left
WWR = West Wall Right
Shellholes who wish to have a plaque installed on the wall – Click here for Application form
The Shrine is continually being updated. Part of this exercise is to upgrade plaques.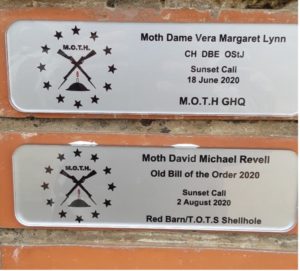 ---
General News:
Mount Memory 95th celebration Parade – 7th May 2022
The annual Mount Memory Remembrance Ceremony –  8th November 2020
This year's Remembrance Ceremony held under clear blue African skies, little wind and a scorching 37 degree heatwave, was very well attended by spectators, visitors, Moth and Mothwa from Durban, KZN Mainline district, Midlands as well as Southern KZN dugouts, which included members of the Moth National Executive and Moth GHQ.
Moth National Chairman Tony Munnik laid the wreath laying on behalf of the Order with a number of wreaths being placed by and on behalf of Provinces, Districts, Shellholes and Warriors Gate.
The Champagne Sports Resort where the memorial is located, are to be commended for their support in providing seating, shading, Onsite medical backup, Water  and of course the delectable after ceremony lunch and refreshments for the much sun-baked and parched members.
Without their management assistance, this ceremony would not have been a success, we the Moth members thank you sincerely.
Special thanks to the Moth Mt. Memory Ceremony planning team, Piper and Bugler who made it all come together, well done indeed.
Photographs by Lgnr. Peter Shattock.
We hope to see you all once again in May 2021 – Founders Day Ceremony at Mt. Memory.
Moth Michael Lee
Chairman Warriors Gate & Mount Memory
---
Cross restored
(The Cross had not been visible for many years, as it had fallen down and needed to be restored)
Well the climb is over……am so proud of the chaps, MOTH Hildegaard Coetzee "Kalahari", recruit
and soon to be MOTH Grant Gregan and, especially Mountain "Guru" Roger Mantel for completing
the gruelling climb to the top of Mt. Memory and repairing and mounting the M.O.T.H memory
cross. That very hard task was a combination of Vasbyt week condensed into 14 long agonising cold
and scary hours on top of one of the most beautiful mountain ranges in the world. (The Sterkhorn,
Mt. Memory, Drakensberg, KZN).
The dense mist at times prevented one from seeing your hand in front of your face, the pathways
are just little holes in the ground to follow and stumble over from long passed through hikers
footprints, the shear drops down the cliff faces would scare Lucifer himself and then, you still battle
to breathe the thin high altitude biting cold air into your tortured over worked lungs.
What started out as an 8 hour round trip took close on 14 hours!!! This is not a climb or hike for the
feint hearted. Horses needed to be called upon to ascend the mountain to carry my fellow Moths
down who had been totally broken, cut and scratched from the unending jarring and slipping
received on the Sterkhorn descent. These animals were truly a God send and amazing. Their strength
and endurance defies the odds pitted against such tall steep and treacherous passes and pathways.
And they did it mind you, in pitch darkness with no light or reflection all whilst carrying a person on
their backs!! Many thanks also to the two KZN Wildlife rangers who risked a lot to bring our lads
home safe. They didn't shrug when called upon to assist but, willingly jumped in and took up the
task.
My climb down however went on a different steeper quicker path, it was more pain in my legs than I
have ever felt in my life or maybe it's just old age creeping in? The 4 hours of constant slipping,
scraping and jolting took a huge toll on my knees and thighs. Three days after the ordeal and all of us
were still in limp and blister mode…..that is except for Roger Mantel our mountain "Guru" and
guide….this absolute gentleman who is much older than us three, is a mountain dominating machine
and unbreakable as a hiker goes…. we salute you Roger, you do us all proud!!
For all the sins I have committed and all the Hail Mary's I cried out to the Sainted Mother and God in
pain upon that descent, I do hope the Angels where listening and took note. Maybe it will keep me
out of purgatory a little longer…..perhaps!!
I realised as I wondered alone ever downward in that dense mist in agony with no companionship
that, God places all of us in challenging situations every day and it is us and the human spirit that
strives to survive that determines the outcome of that challenge.
We will do it again of course, better prepared this time…….for the M.O.T.H. Order……..for our
comrades in arms and brothers who didn't come home…………and…….… because it's there!!!
Thanks to Moth Moekie who supplied the repair fittings and cables for us to carry up.
A heartfelt grateful thanks to MOTH Luddie Vos the Chairman of Warriors Gate and as such Mount
Memory inclusive for allowing us this unforgettable experience…..it was a challenge we would gladly
do again…..just let us get our legs back………
Mike Lee
Old Bill
Better 'Ole Shellhole
Pinetown, KZN
---
November 2017
Moth Arthur Bester from Twilight Red Tab visited the memorial site on 15 th November 2017 with the view of climbing Mt Memory on 16th. However, the climb had to abandoned due to snow fall. However, a group of the Mountain Backpackers Club of SA were able to climb on the 18th November 2017 and reported all well at the cross
March 2018 – Cross still in good condition.
September 2020.
Under the chairmanship of Moth Mike Lee, and excursion to Mt Memory has been successfully completed to tidy up and clean the   Wall in preparation for the Annual November Rememberance parade. This includes the memorial plant troughs being redone with new plants, 2 Plaques mounted, Tin Hats rubbed down and painted, new name plaque mounted, flag poles repaired.
An arial view of Mount Memory (Sterkhorn) – with cross.